Orlans announced today that Julie Moran, Senior Executive Counsel, was named an award winner of the inaugural #NEXTPowerhouseAward honoring the most influential women in the mortgage industry. The winners are celebrated for being technologically innovative, sharing new ideas and pushing the limits to keep their companies and the industry moving forward.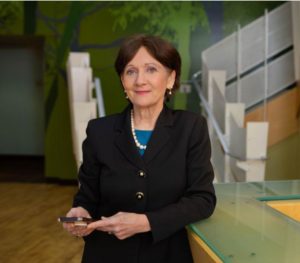 Julie is an innovator and trailblazer in the mortgage and legal industries. She began her career as an attorney at a Boston law firm concentrating in transactional real estate. She developed a mortgage banking practice that became one of the largest sources of firm and client growth. As a partner at the firm, she had the privilege of working with some of the nation's largest banks and loan servicers. Julie was elected as the firm's first female managing partner at a time when there was only one other female managing partner in Boston.
In 2005, she co-founded WEB (Women Executives in Banking) with fellow industry executives Linda Orlans, also of Orlans PC and Miriam Moore of Servicelink. WEB helps women advance their careers through education, coaching and peer support.
In 2007, Julie joined with Linda Orlans to launch Orlans Moran PC, a 100% women-owned law firm where she oversaw operations as well as the legal and regulatory compliance practice. Under Linda and Julie's innovative leadership, the firm quadrupled its market share and number of clients by applying Lean Six Sigma concepts to the foreclosure legal process.
Julie is an industry leader and has served on a number of regulatory task forces on mortgage banking issues. She is co-chair of the Legal Issues Committee of the USFN, co-chair of the Financial Services Pac of the National Association of Minority and Women Owned Law Firms (NAMWOLF) and member of the Board of Directors of the MA Real Estate Bar Association. Julie is a frequent author of topical articles of interest to the industry and a speaker on regulatory compliance and current legal issues at both local and national conferences.
"I am honored to receive this esteemed award from an organization that is focused on advancing women in their careers and professional growth," said Moran.
About Orlans
An industry leader, the Orlans group of companies serve over 100 of the largest banks, servicers, finance companies, real estate companies, government agencies and Fortune 500 companies in America. Orlans growth is due to its commitment to keeping the needs of their clients first. For more information visit Orlans (orlans.com), eTITLE Agency, Inc. (etitleagency.com) and Revlegal (revlegalservices.com).
AboutNEXT
NEXT is an organization that is a catalyst for empowering women in the mortgage industry. It inspires women to support each other via networking, events and education/information sharing. The association encourages technology and innovation that not only enriches its membership but assists in driving the industry forward.
A list of #NEXTPowerhouseAwards winners can be viewed at https://nextmortgagenews.com/next-powerhouse-award-winners.